Back To Menu
Grilled Chicken Burrito
Jumbo
$6.59
Jumbo Jumbo
$10.59
Triple Jumbo
$17.99
Extras (Optional) - Cost need to be added below:
Sour Cream
Salsa
Guacamole
BBQ
Blue Cheese
Ranch
Nacho Cheese
Honey Mustard
Pinto Beans
Black Beans
Rice
Jalapeños
Banana Peppers
Olives
Sauce (Select 1):
Hot
Medium
Mild
House-made Chipotle X-Hot
Have you tried this item? Pop it!
Help other diners know what to expect by sharing your experience.
3 people have popped this item
Photo Gallery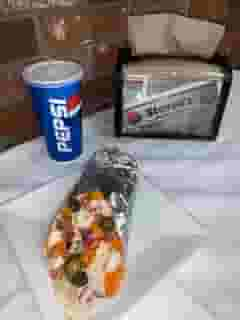 Back To Menu
Grilled Chicken Burrito
Jumbo
$6.59
Jumbo Jumbo
$10.59
Triple Jumbo
$17.99
Extras (Optional) - Cost need to be added below:
Sour Cream
Salsa
Guacamole
BBQ
Blue Cheese
Ranch
Nacho Cheese
Honey Mustard
Pinto Beans
Black Beans
Rice
Jalapeños
Banana Peppers
Olives
Sauce (Select 1):
Hot
Medium
Mild
House-made Chipotle X-Hot
  Back To Menu