Back To Menu
Jumbo Wings
Served with carrots, celery and blue cheese. Choose from hot, medium, mild or our house-made chipotle x-hot. Specialty flavors BBQ, firehouse cajun, honey mustard or H.S.BC (shaken in hot sauce and blue cheese crumbles)
10 wings
$12.99
20 wings
$23.99
30 wings
$34.99
50 wings
$53.99
Jumbo Wing Sauce (Select 1):
Hot
Medium
Mild
House-made Chipotle X-Hot
Specialty | BBQ
+$1
Specialty | Firehouse Cajun
+$1
Specialty | Honey Mustard
+$1
Specialty | H.S.BC (shaken in hot sauce and blue cheese crumbles)
+$1
Extra saucey
+$0.50
Garlic Parmesan
+$1.50
Have you tried this item? Pop it!
Help other diners know what to expect by sharing your experience.
5 people have popped this item
Photo Gallery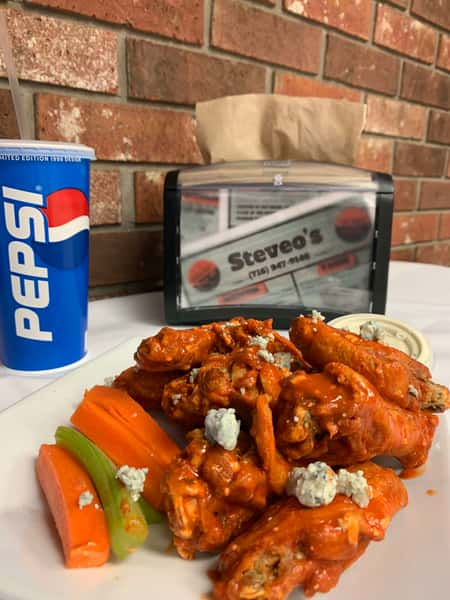 Back To Menu
Jumbo Wings
Served with carrots, celery and blue cheese. Choose from hot, medium, mild or our house-made chipotle x-hot. Specialty flavors BBQ, firehouse cajun, honey mustard or H.S.BC (shaken in hot sauce and blue cheese crumbles)
10 wings
$12.99
20 wings
$23.99
30 wings
$34.99
50 wings
$53.99
Jumbo Wing Sauce (Select 1):
Hot
Medium
Mild
House-made Chipotle X-Hot
Specialty | BBQ
+$1
Specialty | Firehouse Cajun
+$1
Specialty | Honey Mustard
+$1
Specialty | H.S.BC (shaken in hot sauce and blue cheese crumbles)
+$1
Extra saucey
+$0.50
Garlic Parmesan
+$1.50
Back To Menu